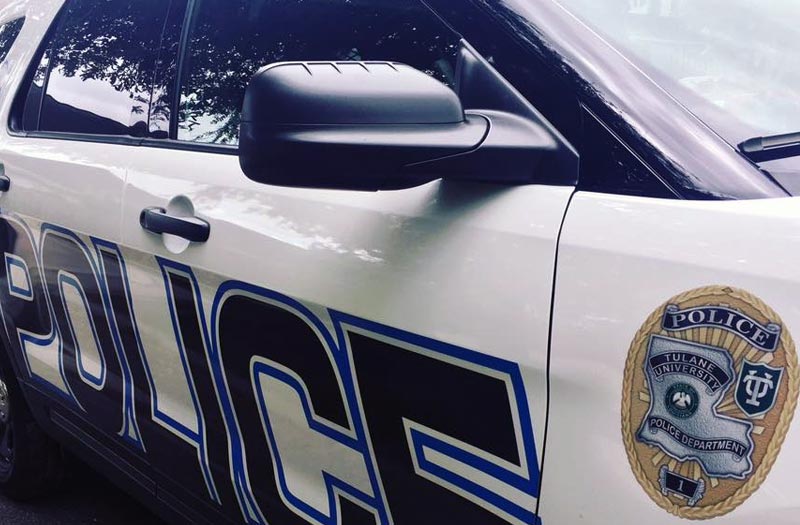 Student safety is Tulane's top priority, and we utilize cutting-edge security and emergency preparedness systems to ensure it. Tulane's campus in uptown New Orleans is within one of the safest areas of the city. The crime statistics on and around Tulane's campus are comparable to - if not more favorable than - those at other urban universities. In addition, Tulane still takes an active role to protect its students and educate them about safety.
Tulane University Police Department (TUPD)
The Tulane University Police Department (TUPD) patrols Tulane's campus and its neighboring areas. The full-service law enforcement agency is separate from, but operates in cooperation with, the New Orleans Police Department. The staff includes approximately 100 full-time commissioned police officers who are trained at state-certified police academies and meet the requirements of the Louisiana Peace Officer Standards of Training. The staff also includes 15 support staff members and more than 40 part-time student employees, who receive special training in campus law enforcement.
TUPD patrols campus 24 hours a day and 365 days a year. Their 80+ blue-lit emergency phones installed across the network of campus pathways immediately connect students to the Department of Public Safety. Additionally, every residence hall building requires a key or ID card to enter, and many have desk assistants on duty from 8pm through 7am.
TUPD's services include, free of charge:
Safety programs and seminars, including self-defense and crime prevention orientations
Regular shuttle service on and between Tulane campuses, as well as off campus to shopping, movie theatres, and special events
Gold Zone shuttles for late-night transportation on and off campus
Personal officer escorts 24 hours a day, 7 days a week
Everbridge, a virtual safety escort service that notifies TUPD if a participating student does not arrive at their destination on time
Tulane Hurricane Plan
Due to the threat of hurricanes in the Gulf South, Tulane maintains a thorough and comprehensive hurricane and emergency preparedness plan, which includes helpful information on forming your own plans.
Parents interested in receiving periodic updates about the university, such as emergency information and special events, should sign up for Tulane's "Parents as Partners" e-newsletter. Current emergency status information can be found on our emergency website or by calling our alert line at 1.877.862.8080.
Notice of Availability of the Tulane University Annual Security and Fire Safety Report
The University is committed to providing a safe and secure campus environment. In accordance with the "Jeanne Clery Disclosure of Campus Security Policy and Campus Crime Statistics Act" (Clery Act), Tulane publishes an Annual Security and Fire Safety Report to provide information regarding campus safety and security policies, crime statistics, and resources to current and prospective students and employees.
This report contains information regarding campus security and personal safety including topics such as: crime prevention information, fire safety information, university police law enforcement authority, crime reporting policies, disciplinary procedures and other matters of importance related to security and safety on campus. This report also contains information about crime statistics for the three previous calendar years for reported crimes that occurred on campus; in certain off-campus buildings or property owned or controlled by Tulane University; and on public property within, or immediately adjacent to and accessible from the campus. Also included are campus policies concerning crime prevention, crime reporting, alcohol and drug use, sexual and interpersonal violence, student discipline, and other matters.
Printed copies of the report can be requested by calling the Tulane University Police at 504-865-5381, or by visiting the Tulane University Police Department Uptown office at 2650 Ben Weiner Drive (located in the Diboll Parking Garage).
Campus safety is a collaborative effort that involves the entire community. The University encourages victims, witnesses, and community members who are made aware of crimes to report all incidents to the Tulane University Police Department at 504-865-5381. To learn more about the Clery Act, please visit https://publicsafety.tulane.edu/clery-act.