New Orleans is a city loved for its events, festivals, and celebrated traditions, and nearly every neighborhood has its own. There is never a dull moment in a city that celebrates all aspects of life, and we've listed some of our favorite ways to do that below. For a longer listing of events in town, visit the New Orleans Tourism website.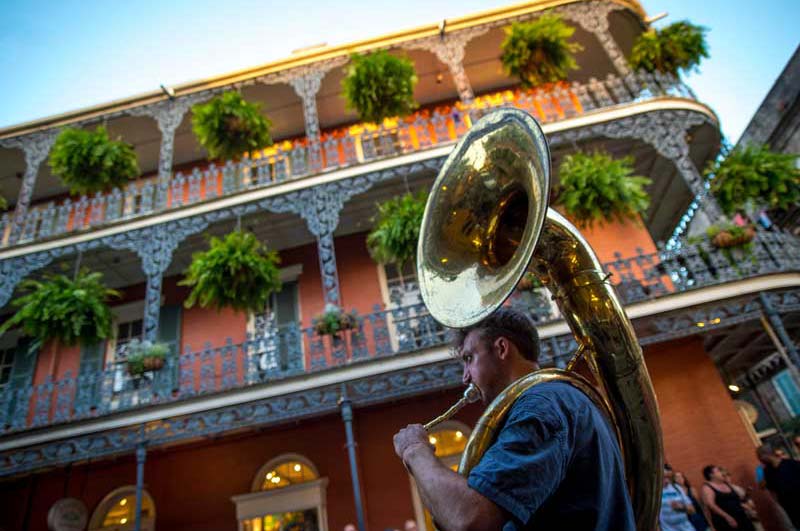 The festival that needs no introduction. Carnival season begins 12 days after Christmas and lasts until Mardi Gras ("Fat Tuesday"), the day before Ash Wednesday. Mardi Gras is rooted in hundreds of years of tradition and is led by dozens of krewes that celebrate the season with a series of galas, balls, and - of course - parades. Mardi Gras is predominately a family celebration, especially in the Uptown area near Tulane. Head over to the parade route and get ready to shout "Throw me somethin', Mister!"
Known as one of the biggest music, food, and art festivals in the world, Jazz Fest is a 10-day, two weekend celebration of what New Orleans does best. Local and national musicians from a wide variety of musical genres perform on 12 stages set up throughout New Orleans' Fair Grounds Race Course, and nearly half a million people attend each year.
French Quarter Fest is yet another wonderful springtime tradition in New Orleans. 150 musical acts perform on stages throughout the French Quarter, and hundreds of different food venues are represented every year.
While we love to eat, New Orleanians also love to be active and stay healthy. Runners from across the city and the country flock to New Orleans in the spring for the annual Crescent City Classic. The road race takes its runners through a number of historic neighborhoods and ends its 10k trek amongst the majestic live oaks of City Park.
Many famous musicians and artists - as well as innovative but relative unknowns - travel to New Orleans for Halloween each year to perform at Voodoo Fest. Held among the 1,300 acres of City Park, the festival has established a significant national draw and features a range of musical genres as well as cutting-edge artwork. Recent acts include the Avett Brothers, Foo Fighters, Neil Young, Skrillex, Awolnation, Big Freedia, Janelle Monae, Drake, Nine Inch Nails, and Calvin Harris.
Keeping up the tradition of free live music in New Orleans, Wednesday at the Square is a 12-week concert series held in Lafayette Square in downtown New Orleans. Local and nationally known artists take the stage every Wednesday in April, May, and June, and great New Orleans restaurants set up vendor stalls to feed the masses.
In New Orleans, we don't have sandwiches, and we don't have subs. We have po-boys...and we take them very seriously. Po-Boy Fest takes place just blocks from Tulane's campus and showcases the creations of many of New Orleans' best chefs and restaurants.
This annual May festival brings together more than 175 wineries from around the world. That paired with food tastings from many of New Orleans' finest restaurants helps you see why this festival is one of the most popular of the year.
White Linen night takes place in early August in the trendy Warehouse District of downtown New Orleans. A block party of local art, each gallery in the district opens its doors for an evening of music, food, and art gallery tours, and revelers wear their best white linen to attend.
This annual literary festival honoring the one-time resident of New Orleans takes place in March and brings together some of the most noted authors, scholars, and writers from all over the world. It centers on a number of theatrical performances, plays, exhibitions, and lectures and is a perfect tour of the literary South for any student interested in Creative Writing or English.
Inspired by New Orleans' often-overlooked Spanish heritage, hundreds of revelers pay homage to Pamplona's Encierro or "Running of the Bulls" each July. As with most events in New Orleans though, there's a twist. Participants run from members of the Big Easy Rollergirls and try to avoid a whack from their plastic bats (still less dangerous than actual bulls).